Our Education Booklet Has Arrived!
We've launched our new Imagination Station Education booklet - making it easy to browse our courses for your school!
Check out our wide variety of LEGO robotics programmes, designed to fit in with your schools digital technology requirements.
Check out the booklet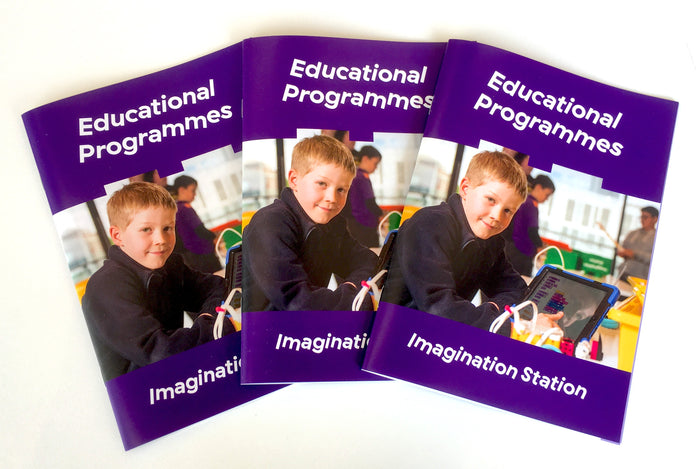 Testimonials
I have managed to get a job with an educational charity in London and am really enjoying it – although I definitely miss playing with the LEGO. Thanks so much again for having me volunteer with you – I really miss it!

Grace, Former Volunteer
Thank you for a wonderful Year of Stop Motion. It has been a BLAST being with you guys.

Jack, After School Program Attendee
Imagination Station have shown themselves to be a committed long term member in Christchurch's not for profit sector. They provide high quality, well planned education sessions for the children of Christchurch and manage to do so at a low cost to the public

Science Alive!
To Sam & team at Imagination Station

Thanks so much for having us in your amazing space! We had heaps of fun.

The Vodafone Xone Team
Thank you for making our end of year event great.

Tracey - Special event host
I learned so much while I was there and enjoyed getting to meet all of you and the wonderful visitors and hilarious kids that frequent Imagination Station! I can't wait to see how the space grows and all the creations that come out of it!

Susan, Intern from Tufts University
Dear Anna,
Thank you for talking us through making our ideas go wild and giving us advice for what we need in our city.  My favourite part was the building. I really liked using lots of imagination and building a city plan. I had a great time and am definitely coming again!

Kayla, School Child
I have experienced first hand the enjoyment of children and their families engaging in creative play at Imagination Station, and can recognise the value of Imagination Station for learning, creating, and greater connection.

Sean
They have filled a huge gap in the 'creative, fun activities for children' space that has been left vacant by the loss of Science Alive and other spaces.

Vicki Buck, City Councillor